Life is made up of encounters. Some leave deep, indelible impressions on us which can be as painful as scars or as gentle as caresses. Sometimes they also leave traces that are superficial and momentary, as fleeting as the wind.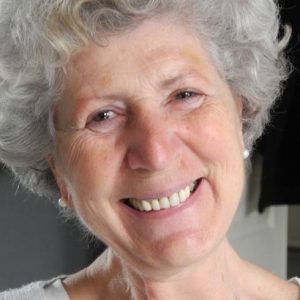 Dan's path is interspersed with encounters like these, and each encounter shaped her life—which was tormented or calm depending on the epoch – in its way. She candidly and unashamedly tells the story of the men and women who met, rejected, detested, manipulated, and even tortured her. She also talks about the men and women who loved, helped, cherished, and saved her.
But above all, she tells the story of the greatest encounter of all – her encounter with God. She did not look for Him. He sought her out to give her what she had been looking for all her life, from her unhappy childhood to her serene womanhood – Love with a capital "L", absolute love, perfect love. This autobiography is first and foremost a magnificent story of unfulfilled and then unconditional love.
It invites those who leaf through this book to allow themselves to be sought out and found by God, for whom Love is the greatest gift. It invites us to look into ourselves and discover our fears and limitations, our joys and delights, through the power of the Spirit, of the divine, and of the human.
My wife Clarisse and I met Dan during the African period of her life. We found her compelling, and she questioned and sometimes rattled our rationalism. She has made a deep and indelible impression on our lives, an impression full of gentleness and peace. The things we failed to understand are explained in these lines – and what courage it took to write them!
We hope that the experience Dan offers you through this confession will take you on the path of the Love of God, who once said to His friends: Greater love has no one than this, that a person will lay down his life for his friends. (John 15:13)
Clarisse and Alain Meyer
Ostwald, October 2016
---
Your purchase of Dan's eBook Terror to Grace will go towards the financing of its English language printing.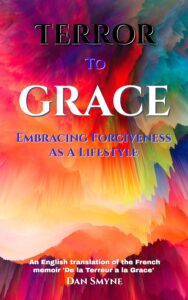 We currently have three downloadable formats available for your convenience: PDF (for computer reading), MOBI, and EPUB (for any standard eReader). All three are accessible with your purchase. At checkout, you will be asked to create an account through which you will be able to access your downloads at any time.
Please verify that you are able to view one of these formats prior to your purchase.
Download and save the files of your choice to the device of your preference and please do not hesitate to contact pamela@dansmyne.com with questions. If you do not see your email almost immediately, please be sure to check your junk or spam folders.
Payment is made via PayPal. You do not have to have a PayPal account in order to purchase, you can choose to pay via credit card as a guest. Dan's US Distribution and website are maintained by Lively Stones Rocks and your PayPal receipt may reflect that.
If you would like to participate in the financing of the printing, please click here.